Printer-Friendly Version
DISMAS ROTTA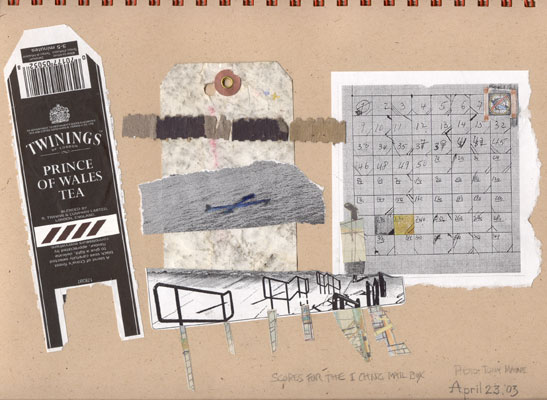 EARLY INFLUENCES : Comic books, pulp magazines, SEARS catalogues (esp. the bra & girdle sections), tracing shapes & figures off the linoleum floors in the kitchen. Taking cardboard sheets, scrap wood & metal for creating mock space ships, tanks & submarines. Anything with BETTY PAIGE photos, hitching a ride on the railroad cars that passed through our neighborhood and heading off on daily excursions on my bike, lunch packed and pedaling into adventures as far away from home as possible.

COLLEGE YEARS: Reading NO EXIT by Jean Paul Sartre, the erotic literature of Henry Miller & D.H. Lawerence gave me many meaningful fantasies to play in my head. The simplicity of CONSTANTIN BRANCUSI sculpture, the DADA happenings of SALVADOR DALI & the manifesto positions of ANDRE BENTON. Being the only white guy on an all black basketball team and learning to TRASH TALK on the court. Learning about JAZZ & how to listen to the music of MILES DAVIS, ART BLAKEY & the JAZZ MESSENGERS, CHARLIE PARKER, CANNONBALL ADDERLY & NANCY WILSON. Adding the works of JAMES BALDWIN, RALPH ELLISON, and GWENDOLYN BROOKS, was another expansive layer to add to my new JAZZ viewpoint & gave me language to express myself for 'lay it DOWN' to friends.
MONASTIC LIFE: Gave me the opportunities to experience a WHITMAN like existence down on the farm while I was exposed to classes in painting & drawing for the first time ever. The words of PAUL KLEE meant as much as his mysterious color selection with curious hieroglyphics, large format and bizarre titles. ALBERT CAMUS & his surreal story of the THE STRANGER followed by KAFKA'S dreamscapes. WASSILI KANDINSKY gave me SPIRITUAL and artistic guidance in how to create works that had a connection between the brain & heart, intuition & technique, solitude & symbiosis.
While PICASSO may have grabbed others attention I was thrilled at simple works of JEAN FAUTRIER, JEAN DUBUFEFET and PIET MONDRAIN. His VICTORY BOOGIE-WOOGIE had me reading under the covers at night, "Neither life nor art can be brought into being if we consider the spirit alone. The unity of the two makes creation." What gave me promise when I left this way of life & returned to the secular world? The BLACK MOUNTAIN COLLEGE, spiritual heirs of the BAUHAUS,were JOSEF ALBERS paints while JOHN CAGE & BUCKMINISTER FULLER performed ERIK SATIE'S Raft Of the Medusa. There is another form of COMMUNITY LIFE outside the walls of the monastery and I think I can find it in the world of ART.

UPON TAKING THE TEACHERS MANTLE: the photography of AARON SUSKIND , HARRY CALLAHAN & DIANE ARBUS. Sculpture of ALBERTO GIACOMETTI, LEE BONTECOU, LOUISE NEVELSON & DONALD JUDD. In 1967 the question for me was, WHY WAS EVERY PAINTING AN ANSWER TO A QUESTION? MAGRITTE, BALTHUS, MOTHERWELL and who was this 'box maker' who collaged dreams so well ? (JOSEPH CORNELL). Again the words of DUCHAMP came into my journal writing, "MEN ARE MORTAL, SO ARE PAINTINGS." Then my studies at ILLINOIS INST. Of TECHNOLOGY introduced me to a the whole different side of the BAUHAUS methods. Courses were less about making FINE ART & more into designing something ARTFUL that would be meaningful and enhance the daily lives of the user. "FORM FITS FUNCTION." I saw ANTONI TAPIES AND DUBUFFET look to ORIENTAL MYSTICISM as I had looked to THOMAS MERTON who looked at ZEN. COLOR FIELD painters ROTHKO, NEWMANN & STILL gave me hope & enthusiasm that I could do something without a figure present. RAUSCHENBERG, ROSENQUIST & RIVERS showed me several new formats for taking my IMAGERY and making it happen ON or OFF the canvas. Yves Klein hurled himself into space via a photograph and opened my eyes to the sensual side of using the body beautiful to reach into the cosmos and declare my favorite color BLUE as my matrix to the future.
GETTING READY TO DiZ-MANTLE: Over the ten years before I left teaching I was just starting to have my work in group shows & I had a one person show that proved to me I could make art that was from my being & not derivative. JOSEPH BEUYS , ANSLEM KIEFER , and ARMAN showed me what was deconstructing the Academic Pyramid in Europe. While here at home, JULIAN SCHNABEL, SEAN SCULLY, ERIC FISCHL , LAURIE ANDERSON, EVA HESSE & JENNY HOLZER gave me another approach. Before I left the WINDY CITY I came under the influnces of local painters ED PASCHKE, & PHYLLIS BRAMSON , photographers BARBARA CRANE & KEN JOSEPHSON and poet, actor, printmaker TONY FITZPATRICK.
GETTING BOULDER: Over the last three years I've dedicated myself to using my journal/sketchbooks as a way of developing ARTISTS BOOKS. Doing a lot more drawing & collage work in these journals when I travel & leaving "messages" in every motel, hotel, dorm , B&B, or museum that I can "leave my diZ-cards" behind. I have continued my 'exploration' into the wonder filled world of print making by studying with Ms. LYNNE ALLEN & KATHY CARACCIO up at ANDERSON RANCH ART CENTER and going back to BIG CAT PRESS in CHICAGO anytime TONY FITZPATRICK invites me to come back home & print.